Skip to Content
Resort and Golf-Style Vehicles by Hummer
Alternative Electric Vehicles in Tolleson, AZ is an authorized dealer of electric vehicles by Hummer. The next generation of golf vehicles is here, and you won't believe the style and power these vehicles pack into such a compact model. No detail is left out, and you're sure to be the envy of everyone around when you drive by in one of these breathtaking models.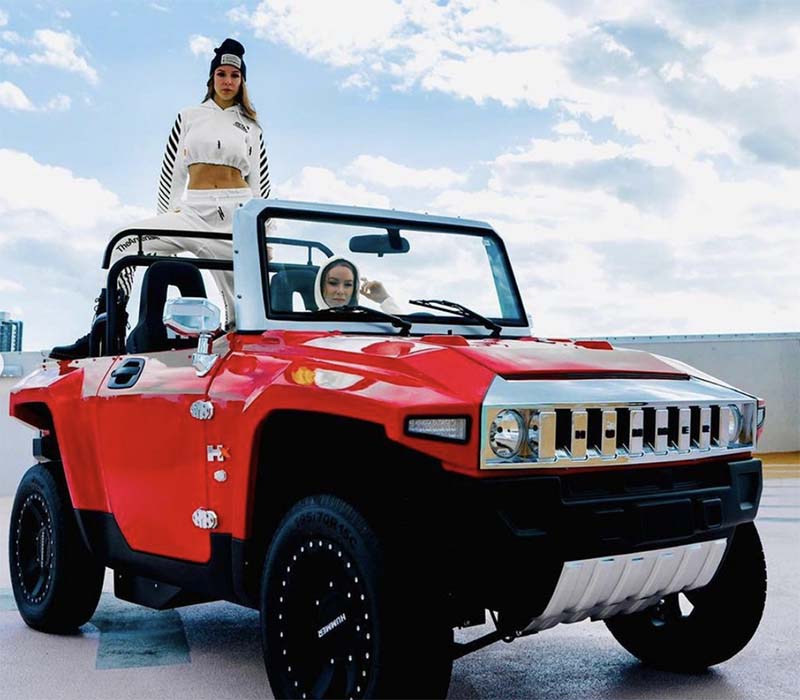 Eco-Friendly Options That Carry Swagger
Humvees are known for their rugged performance used to carry troops and cargo across rough terrain and deserts. The civilian version, known as the Hummer, grabs the attention of all onlookers as drivers cruise the streets. While its hulking design and high-end reputation make it appealing to many consumers, it's not as popular with environmentalists who worry about its excessive gas consumption and emissions. However, Hummer's brand of luxury electric vehicles offers 100% battery-powered operation, completely cutting out harmful emission output from gas. You can cruise around the golf course, neighborhood, resort, campus, or commercial space with complete peace of mind knowing you're making a difference and reducing your carbon footprint. Models include:
Hummer HXT – Two additional seats offer more room for a total of four passengers, available in five standard colors.
Hummer HXT Limo – For the ultimate luxury resort vehicle ride, check out the six-passenger limo, available in five colors.
Customize a Hummer Electric Vehicle
Alternative Electric Vehicles in Tolleson, AZ offers customers access to Hummer's complete line of electric golf and luxury resort vehicles. Browse our stock and choose a model in one of their five standard color choices. Looking for something a little more unique? Ask us about customization options for your Hummer. With custom paint, accessories, and trim packages, you can design and personalize your electric vehicle to meet your tastes. Visit us today.
Standard Specifications
Two plus two seats
72v drive System – 9 x 8v maintenance-free 150Ah battery
AC brushless motor
300Amp AC controller
Heavy-duty automatic gearbox
Disc front brakes and hydraulic rear
Onboard TC multi-region charger
Onboard warm air blower
Custom HUMMER™floor mats
Side doors
Spare wheel box with puncture repair kit
15-inch standard HUMMER™ wheel
Automotive paint and lacquer, choice of five colors
Metallic Neptune blue, flat white, metallic black, flat red, competition GM yellow
DOT & E-Mark windshield and wiper system
DOT & E-Mark R rated 195/70/15 tire
DOT & E-Mark LED lights, driving, position, rear, braking, indication, and reverse
DOT & E-Mark 3-point seat belt system
Full adjustable auto spec sport seats
Bluetooth, CD/Radio, AUX, USB charging
Length 3000 mm / 118 inches
Width 1450 mm / 57 inches
Height 1460 mm / 57 inches
Wheelbase 2128 mm / 84 inches
Braking distance 8ft (at 15mph)
Hummer HX™ Options
MEV™ has built the HUMMER HX™ with an impressive choice of features included as standard, however, to ensure that each MEV HUMMER HX™ has its own unique appeal we offer the below optional accessories including leather interior, air conditioning, custom paint. On top of these optional accessories, the HX™ also comes in a choice of five automotive finish colors as standard.
Lithium battery 206Ah LFP technology (100 miles / 160 kilometres)
180Ah long-range maintenance-free VRLA battery
High torque hill climb controller upgrade (550 AMP)
Dual golf bag holder (removable)
Tow Ball – Specify USA or EU Sized (removable)
15" HUMMER™ wheels in matte black
Hill climb ratio gearbox (30%)
Air Conditioning
Heated seats
Custom coloured paint (metallic or flat)
Custom leather dashboard
Custom leather door panels
Custom coloured leather seats, (Tan or Black)
Off-road style wheel and tire package
Security/police rooftop lights & speaker system
Power-assisted steering